---
Volunteers Needed!!!
Want to be involved with your town more? Well one good way to become involved is by volunteering.  The Town of Orange is looking for volunteers for several committees and you are just the person for one or more of them!
The Town of Orange is seeking volunteers for several committees that would play an important role in improving the Town's infrastructure and providing opportunities for Town residents.  The committees would be developing plans for advancing conservation, energy, health and wellness, wastewater disposal, garden club and recreation.  Having those plans in place is advantageous or necessary when the Town applies for grants from State or federal agencies.  Priority is being placed on establishing a recreation committee as grants for outdoor recreation have been available in past years and are expected to continue.  If you are a Town of Orange resident and have an interest in volunteering please contact Angela, Town Clerk at 479-2673 during normal business hours.
Just a few friendly reminders…….
The Town Office is closed to Walk-Ins.  Please call the office and a schedule an appointment to come in.  We are trying to protect you and us from the COVID-19 virus
Please do not deposit snow into the roadways!! It makes it very difficult for our plow drivers to manage the roads with additional snow in the roadway!!
See winter driving tips below…brought to you by The State of Vermont: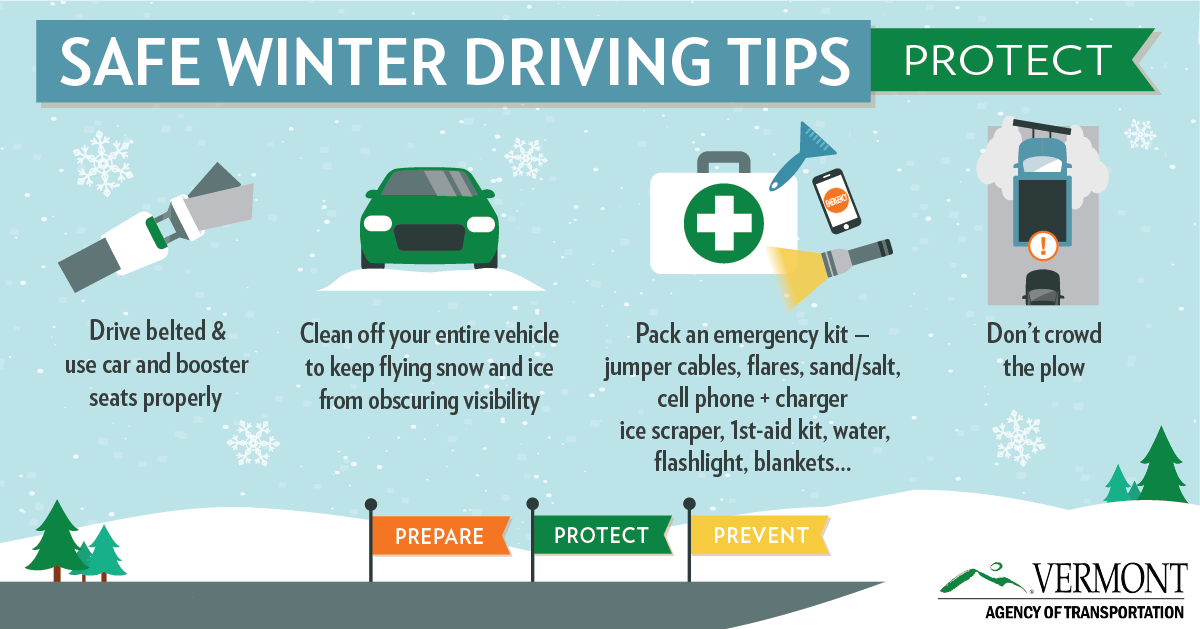 ---
 Annual Town Meeting Warning-2021
Please click on the links below to access the 2021 Annual Town Meeting Warning.  Please note there will be no in person Town Meeting this year.
---
Temporary Road Crew Help Needed
The Public Works Department of the Town of Orange VT, has an immediate opening for a Temporary Road Crew Member.  We are seeking an energetic and motivated individual for an immediate temporary position on the town's road crew. Complete job descriptions are available at the Town Clerk's Office or by email request.
Candidates must possess a minimum of a Class B CDL, as well as experience with and knowledge of, the operation and maintenance of 6-wheel and 10-wheel trucks, snow-plows, front-end loader and other related-highway equipment.
This position requires physical outdoor work and can involve long hours and overtime for winter plowing. A satisfactory completion of pre-employment drug test and motor vehicle records check are required prior to employment.
To apply email, mail or drop off a completed employment application to aeastman@orangevt.org, or submit to:
Link to job application can be found here:
Town of Orange
Attn: Angela Eastman, Town Clerk
392 US Route 302
Orange, VT 05641.
This position will remain open until filled. Orange is an Equal Opportunity Employer.
---
Effective immediately our delinquent tax collector, Mary Claflin has resigned. If you have a delinquent tax payment that you would like to make please drop it in the drop box at the town clerk's office or call 479-2673 for any questions.
---
Town Office Closed-Open by Appointment
Please see the link below with important information regarding our office closure due to COVID-19
---
Did you know…..
The Line Extension Customer Assistance Program ("LECAP") provides up to $3000 in assistance to qualifying and eligible consumers who seek to extend telecommunications lines to their homes. Hundreds of Vermonters without 25/3 Mbps broadband service live just beyond the reach of current cable and other Internet Service Providers' networks. Check it out at the link below: 
https://publicservice.vermont.gov/content/vermont-covid-19-line-extension-customer-assistance-program
---
  Heard around Town:
***Even though its a pandemic my road was nice and clear this morning, all thanks to the road crew.
***Thank you for paving my road! It's excellent and super smooth
***Thank you for filling in the ruts on Cutler Corner. It makes it much easier to drive on!
***Please thank the town crew for filling the holes on Reservoir Road. It makes such a difference!
***Thank you for always keeping my road graded and smooth!
General Disclaimer Notice
The information and services within this Website are provided and maintained for the convenience of the user by the Town of Orange staff. While every effort is made to keep such information accurate and up-to-date, document and related graphics published on this site could include technical inaccuracies or typographic errors.
The Town of Orange  provides the information and services on this Website 'without guarantee, warranty or representation of any kind. Use of and browsing in this Website are at the sole risk of the user. In the case of any errors and discrepancies, including deadline dates for the submission of any materials, the official printed documents maintained at the Town Offices will take precedence.
Independent verification of all information on this Website is strongly recommended. Under no circumstances will the Town of Orange be liable for any incidental, indirect, special, punitive, exemplary or consequential damages, arising out of the use or inability to use this website, including without limitation, loss of revenue or anticipated profits, loss of goodwill, loss of business, loss of data, computer failure or malfunction, or any damages.
Communications made through the electronic mail/and/or messaging capabilities of this site shall in no way be deemed to constitute legal notice to the Town of Orange  or any of its agencies, officers, employees, agents or representatives with respect to any application or existing or po7ntial claim or cause of action against the Town or any of its agencies, officers, employees, agents, or representatives, where notice to the Town is required by any Federal, state or local laws, rules, or regulations